GreenGas
GreenGas AD Plant is a state of the art farm based Anaerobic Digestion plant located outside Shanagolden in County Limerick. The biogas plant processes manure and slurry from McDonnell Farms poultry and dairy farm as well as other imported feedstock. We convert the energy contained in these materials into a usable form of energy, such as electricity. This is done in a very safe and environmentally conscious way.
The biogas produced in the anaerobic digestion process is used as fuel in a high efficient Combined Heat and Power Engine (CHP) which produces electricity and heat. We use some of the electricity produced for onsite use with the majority exported to the national grid and the heat is used in both onsite and in the nearby poultry enterprise. The nutrient rich digestate is used on local farm land as a high quality eco fertiliser.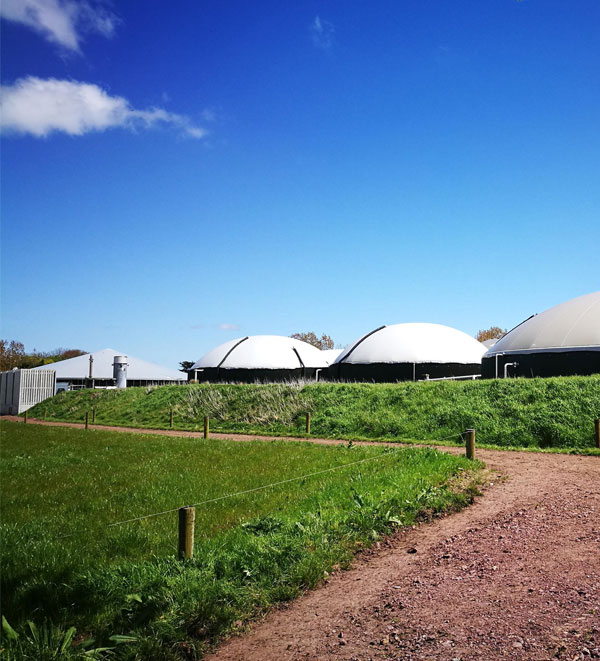 Our Services
GreenGas AD Plant operates to the highest national and international standards. We are a Type 1 Approved Department of Agriculture biogas plant. We are also an approved Waste Permit facility by Limerick City & County Council. Our plant has the ability to accept a wide range of organic feedstocks and we can assist in reducing your carbon footprint and aid in meeting your environmental & sustainability commitments. By using GreenGas AD Plant you are:
Transforming excess organic material into Renewable Energy
Reducing your carbon footprint
Reducing harmful Green House Gas emissions
Recycling nutrients that displace fossil fuel fertiliser
Supporting local jobs

Digestate
A high quality eco fertiliser rich in nutrients that we apply to agricultural land displacing artificial fertiliser.

Biogas
An energy rich gas, high in methane, that we use in a high efficiency CHP to generate electricity and heat.